Test milk at home with ease for healthy drinking.
More than 20,000 Milk Testing Kits Sold.
Fill the form to receive eBook on "Milk Adulteration to test Milk at Home" ABSOLUTELY FREE
9 Things if you find in your milk then it may be adulterated:-
After

drinking milk

you feel dryness on your tongue.
Similarly, you start feeling of itchiness in your throat.
If there is abnormal looking thick layer of fat on top of the milk.
Found abnormal flavor and bitter taste in your fresh milk.
In the same way, heaviness and gastric after drinking milk.
When you rub the milk between the fingers then you get soapy feeling.
The color of milk turns yellowish on boiling.
If your milk is giving abnormal foaming after shaking.
Finally, If you suffer from diarrhea after drinking milk.
For checking the quality of your milk either it is adulterated or not, use this milk adulteration testing kit.
You can buy testing kit @320/- (included GST & courier charges) delivered to your address then click on this button.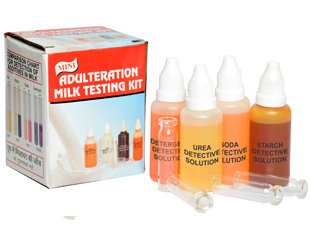 About Chadha Sales Pvt. Ltd.
Chadha Sales Pvt Ltd is an ISO 9001-2015 Engineering Company serving Dairy Industry for the last 50 Years. Incorporated in 1948, Chadha Sales Private Ltd is a pioneer company in the field of Dairy Processing Equipment and Plants. The Company started its business as a Manufacturer of Milk Testing Centrifuge as their first product and the Company has grown from a micro-enterprise to a large company with customers from all across the globe.
We have fully equipped design center with 3D drawing software to design the product or processing plant from scratch which makes our ability to produce and present the best ways.
A short 1 min video introduction about Chadha Sales Pvt. Ltd.
Chadha Sales Pvt. Ltd is backed by a professional team of skilled and experienced engineers. The company has a well equipped in-house production unit with state-of-the-art machines. There is a number of inspection instruments, testing facilities and Chadha sales also provide an adulteration testing kit that helps our customers with consistent quality at all times. The company's R&D Department anticipates future needs and works upon them which keeps the company miles ahead of others.
Apart from being a front-runner in the domestic market, the company caters to the vast need of the quality conscious market of the world. The company's Indian clientele include the National Dairy Development Board, Govt. & Private Milk Co-operatives, Dairy Federations, Dairy Farms, Public Sector Undertakings, Multinational Companies etc.
100% repeatedly of result
Ready stock delivery
Easy Comparative Chart
Also available for commercial dairies
Chadha Sales Pvt. Ltd.
Address: - 137, Rajindra Market, Tis Hazari, New Delhi, Delhi 110054
Contact Details : 011-2392 0100 , +91-7864006400
Email Id: info@chadhasales.com
Website: www.chadhasales.com
Some of the brands we have served by supplying various dairy equipments.