Why should we use Bucket Milking machine?
A Milking Machine can do the milking process faster while ensuring the hygiene and quality of the milk hence a dairy farmer can handle more cows with the same amount of resources
However, The dairy farm that runs without the milking machine will have to rely on manpower as a result, they are facing higher labor expenses in comparison to a dairy farm which milk by milking machine.
It also reduces the dairy farmer's dependency on skilled workers whereas with milking machine it will be easy to do the milking by an unskilled worker.
When we milk the animals by milking machine with consistent milking routine, it will reduce the stress on the animal and it will contribute to the improvement of the health of animals and also contributes to an increase in milk production.
Did you know that 97 % of the milking machine breakdown comes from 6 issues in the machine?
Breakdown due to the low level of oil in the vacuum pump which can lead to dysfunction of the machine
Loose connections in the vacuum line which leads to longer milking time hence uncomfortable for animals to milk.
Dairy farms face production downtime due to non-availability or delay in the supply of spare parts.
Removal of paint from the chaises which leads to rusting and reduce the life of the machine.
Low quality of vacuum gauge, give a wrong reading which can lead to damage of cow teat tissues.
Leakage in tubing used in milking machine due to low and cheap quality of raw material used.
Above all, if you're facing any of these problems. Please fill in the form below to get Instant 5% Discount on our Milking Machines. Offer avail till 30 Days of Registration.
11 Important things must know before you buy Bucket Milking Machine
About Chadha Sales Pvt. Ltd.
Chadha Sales Pvt Ltd is an ISO 9001-2015 Engineering Company serving Dairy Industry for the last 50 Years. Incorporated in 1948, Chadha Sales Private Ltd is a pioneer company in the field of Dairy Processing Equipment and Plants. The Company started its business as a Manufacturer of Milk Testing Centrifuge as their first product and the Company has grown from a micro-enterprise to a large company with customers from all across the globe.
We have fully equipped design center with 3D drawing software to design the product or processing plant from scratch which makes our ability to produce and present the best ways.
A short introduction about our company
Our organization is backed by a professional team of skilled and experienced engineers. The company has a well equipped in-house production unit with state-of-the-art machines. There are many numbers of inspection instruments and testing facilities that help in providing our customers with consistent quality at all times. The specialist in R&D Department anticipates future needs and works upon them which keeps the company miles ahead of others.
Apart from being a front-runner in the domestic market, the company caters to the vast need of the quality conscious market of the world. The company's Indian clientele include the National Dairy Development Board, Govt. & Private Milk Co-operatives, Dairy Federations, Dairy Farms, Public Sector Undertakings, Multinational Companies etc.
100000+
Installations all
around the world
Why choose Chadha Sales Bereket Bucket Milking machine?
Oil-free bucket milking machines
Service free bucket milking machine
All critical components are imported
Ready stock delivery
16 Months Pulsator warranty which is the heart of the machine
6 months warranty for rubber liners.
All milk contacting parts are of food grade
Phthalate free tubing.
Bucket size of 30 ltrs in Stainless Steel.
Our machine is exported to various European countries
Galvanized chassis
Can easily manoeuvre on uneven surfaces
BS-4X Trolley Type.
Double can of 30 ltr and double cluster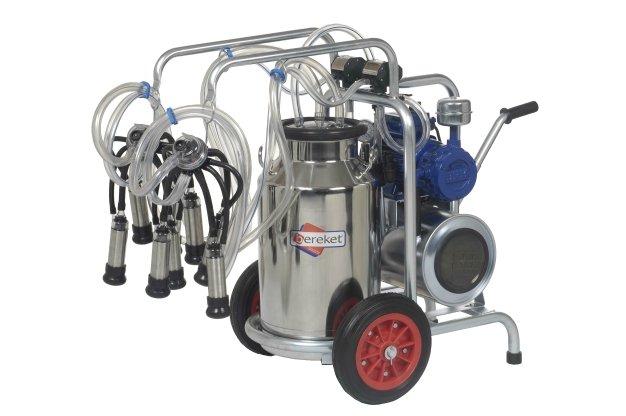 BS-3X Trolley Type.
Single can of 40 ltr with double cluster
BS-mini X - Trolley Type.
Single can of 30 ltr and single cluster
We also manufacture cow mats, ear tags, bulk milk coolers, aluminium alloy milk can, milk testing equipment, milk vending machine, cream separators, butter churners and other dairy farm and processing equipment.
Our milking machine are design to give comfort to cows
Chadha Sales Pvt. Ltd.
Address: - 137, Rajindra Market, Tis Hazari, New Delhi, Delhi 110054
Contact Details
Some of the brands we have served by supplying various dairy equipments.
Watch Bucket milking machine demonstration video
We purchased our first milking machine in 2015 at that time we were having just seven cows and as our heard increase we have taken another two more bucket milking machine from Chadha Sales. In 2017 our herd size has increased to 100 + animals and we have installed swing over 6 x 1 milking parlour from Chadha Sales. We are very happy with the quality of the machine and services provided by Chadha Sales Pvt.Ltd. We wish them good luck in their business.
Mr. Sandeep Kaushik
Prakrati Farm
We have contacted Chadha Sales for our requirement; for milking machine we have received very good guidance on the selection of milking machine from Mr. Satpal Singh Kohli of Chadha Sales and thereafter in 2017 we have purchased one trolley milking machine with two clusters to milk two cows at a time and thereafter we purchased more cows in 2018 we have purchased stationery type bucket milking machine BS3X to milk 5 Cows at a time. These machine are running very smoothly without any single breakdown. we appreciate Chadha Sales commitment to the dairy farmers and there kind guidance time to time.
Mr. Ram Motani
Ram Motani Dairy Farm
I am the proprietor of Devendar Dairy Farm and purchased bucket milking machine with 5 cluster from Chadha Sales Pvt. Ltd. Before buying I have compared quality and price both from various supplier and have found Chadha Sales as a reliable suppliers. I thank them for giving me very good product and on good price. I wish them good luck in there business.
Mr. Devender Kumar
Devendra Dairy Udhyog,
Narsinghpur / M.P
Frequently asked questions about milking machines: