SERUM is the water phase obtained during pre-stratification of melted butter during the manufacturing of Ghee/Butter Oil. Serum Separator helps in recovering valuable milk fat from the Serum. Chadha Sales Pvt. Ltd. offers Serum Separator in three capacities as per your requirements. Serum separators is a Solid Bowl Centrifugal Separator with large peripheral bowl space for the collection of solid waste/ curd
Available in three capacity:
LPH, Model: SR AEO-1
3000 LPH, Model: SR AEO-3
5000 LPH, Model: SR AEO-5
Important to pre-filter the Serum prior to feeding into Serum Separator at an optimum temperature range of 55-65 deg C.
Chadha Sales Pvt. Ltd. offers you the complete system consisting of Feed Tank, Duplex Pre-Filter, Centrifugal Feed Pump and necessary Pipes & Fittings along with the Serum Separator.
Features of Serum Separators:
Solid Bowl Construction
All contacting parts are made of AISI-304
More space for the milk Solids
Dynamically balanced complete bowl assembly.
Discharge of recovered milk fat at the pressure
Benefits:
Recovery of valuable fat from Serum obtained after pre- stratification of melted butter during ghee or butter oil manufacturing.
Less load on drainage – drains don't clog with fat
Less workload on an Effluent Treatment Plant.
The concentration of fat, less heat energy required for ghee manufacturing.
Chadha Sales Pvt Ltd is an ISO 9001-2015 Engineering Company serving Dairy Industry for the last 50 Years. Incorporated in 1948, It is a pioneer company in the field of Dairy Processing Equipment and Plants. The Company started its business as a Manufacturer of Milk Testing Centrifuge as their first product and the Company has grown from a micro-enterprise to a large company with customers from all across the globe.
We have fully equipped design center with 3D drawing software to design the product or processing plant from scratch which makes our ability to produce and present the best ways.
A short introduction about our company
Our company is backed by professional team of skilled and experienced engineers. The company has a well equipped in-house production unit with state-of-the-art machines. There are numbers of inspection instruments and testing facility that help in providing our customers with consistent quality at all times. The company's R&D Department anticipates future needs and works upon them which keeps the company miles ahead of others.
Apart from being a front-runner in the domestic market, the company caters to the vast need of the quality conscious market of the world. The company's Indian clientele include the National Dairy Development Board, Govt. & Private Milk Co-operatives, Dairy Federations, Dairy Farms, Public Sector Undertakings, Multinational Companies etc.
Dedicated Customer Care Executive for after sales
I am running 2nd genetic dairy in Uttar Pradesh and installed Lakshmi Cream Separator in our dairy even before I joined my family business and as my business expanded I have again bought Lakshmi Cream Separator 1000 LPH in 1990 and for the last 30 years I am using Lakshmi Cream Separator for my utmost satisfaction due to very good performance of Cream Separator it has saved a lot of money due to its efficient Separators at all times. I recommend other dairies to buy Lakshmi brand Cream Separator for trouble free operation.
Mr. Ram Dayal,
Sudama Dugdh Bhandar,
Lakhimpur Kheri, U.P
Myself, Tsetsgee, I am a regular client of Chadha Sales Pvt. Ltd. and purchase dairy machinery every year. I am producing cheese from yak milk in the mountainous region of Bayankhongor province, Mongolia and have purchased Cream Separators 225 Ltrs. and 325 Litres. capacity from Chadha Sales Pvt. Ltd., New Delhi, India. I must say that the machine is running very smoothly without any difficulties. I have also purchased other dairy machinery for our plant from Chadha Sales. My plant is working satisfactory and I am very satisfied and happy. I give my best wishes to Chadha Sales in future.
Ms. Tsetsgee
Mongolia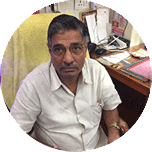 In 2000, I purchased a Cream Separator of small capacity for my shop in New Delhi and I am using on a regular basis since then the machine is running trouble free. I would say that this machine is best. I am happy with the performance of the machine
Mr. Jay Prakash
Lakshmi Dairy, New Delhi
Frequently asked question
Chadha Sales Pvt. Ltd.
Address: - 137, Rajindra Market, Tis Hazari, New Delhi, Delhi 110054
Contact Details
Some of the brands we have served by supplying various dairy equipments.