Get up-to 5% Higher Yield During Ghee & Butter Oil Processing through CENTRIFUGAL SERUM SEPARATORS
SERUM is the water phase obtained during pre-stratification of melted butter during the manufacturing of Ghee/Butter Oil. Serum Separator helps in recovering valuable milk fat from the Serum. Chadha Sales Pvt. Ltd. offers Serum Separator in three capacities as per your requirements. Serum separators is a Solid Bowl Centrifugal Separator with large peripheral bowl space for the collection of solid waste/ curd.
Available in three capacity: 1000 LPH, Model: SR AEO-1
3000 LPH, Model: SR AEO-3
5000 LPH, Model: SR AEO-5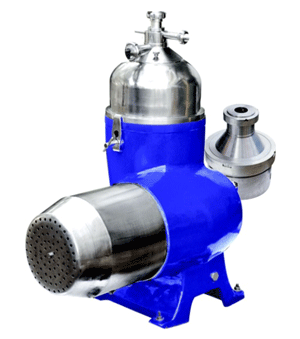 Important to pre-filter the Serum prior to feeding into Serum Separator at an optimum temperature range of 55-65 deg C.
Chadha Sales Pvt. Ltd. offers you the complete system consisting of Feed Tank, Duplex Pre-Filter, Centrifugal Feed Pump and necessary Pipes & Fittings along with the Serum Separator.
Features of Serum Separators:
Solid Bowl Construction
All contacting parts are made of AISI-304
More space for the milk Solids
Dynamically balanced complete bowl assembly.
Discharge of recovered milk fat at the pressure
Benefits:
Recovery of valuable fat from Serum obtained after pre- stratification of melted butter during ghee or butter oil manufacturing.
Less load on drainage – drains don't clog with fat
Less workload on Effluent Treatment Plant.
The concentration of fat, less heat energy required for ghee manufacturing.
Lakshmi Cream Separators Introduction Know about Online Cream Separator, Clarifier for Milk and Ghee